Submit Your Manuscript For The Knee Society's Scientific Award
The Knee Society is inviting submissions in consideration for its annual Scientific Awards. The deadline to submit is December 1, 2017. Full manuscripts are to be submitted through Clinical Orthopaedic and Related Research (CORR) at:
https://www.editorialmanager.com/corr/default.aspx.
(CORR guidelines must be followed and CORR policies shall apply.)
Three scientific awards named to honor prominent members of The Knee Society are presented annually: the Mark Coventry Award; the Chitranjan S. Ranawat Award; and the John N. Insall Award.

TO BE CONSIDERED, submitted manuscripts:
Must highlight quality basic science or clinical research specifically related to the knee joint;

Must be completely original work, and not be published in part or in whole, in any print publication or electronic media platform;

May be previously presented, in whole or in part, if the new submission represents an important contribution;

Must be blinded;

Must be in a publishable format and adhere to CORR's guidelines and procedures

...Time To Register And Unlock An Exciting New Educational Opportunity...
Created for YOU by The Knee Society and The Hip Society
Sunday, January 21 - Wednesday, January 24, 2018
Canyons Grand Summit Resort | Park City, Utah

Please note: Registration for this co-branded program is taken by The Hip Society.
Follow instructions for Non-Members that are under the Log-In boxes.
October 1, 2017 is the deadline to register. Do not delay! Act now!
JAMM2018 is co-chaired by Fred D. Cushner, MD, Aaron A. Hoffman, MD, Adolph V. Lombardi, Jr., MD and Christopher L. Peters, MD, and presented by stellar Hip/Knee Societies' faculty:
| | |
| --- | --- |
| Robert L. Barrack, MD | Michael E. Berend, MD |
| Daniel J. Berry, MD | John J. Callaghan, MD |
| Craig J. Della Valle, MD | Kevin L. Garvin, MD |
| William G. Hamilton, MD | David G. Lewallen, MD |
| Jess H. Lonner, MD | Steven J. MacDonald, MD |
| David J. Mayman, MD | Douglas D.R. Naudie, MD |
| Douglas E. Padgett, MD | Mark W. Pagnano, MD |
| Wayne G. Paprosky, MD | Giles R. Scuderi, MD |
| Rafael J. Sierra, MD | Alfred J. Tria, Jr., MD |
| Geoffrey H. Westrich, MD | |
You may download JAMM BROCHURE, or go HERE to learn more.
DRAFT preliminary JAMM AGENDA is now available (subject to change without notice).
Exciting sponsorship and exhibit opportunities are available HERE!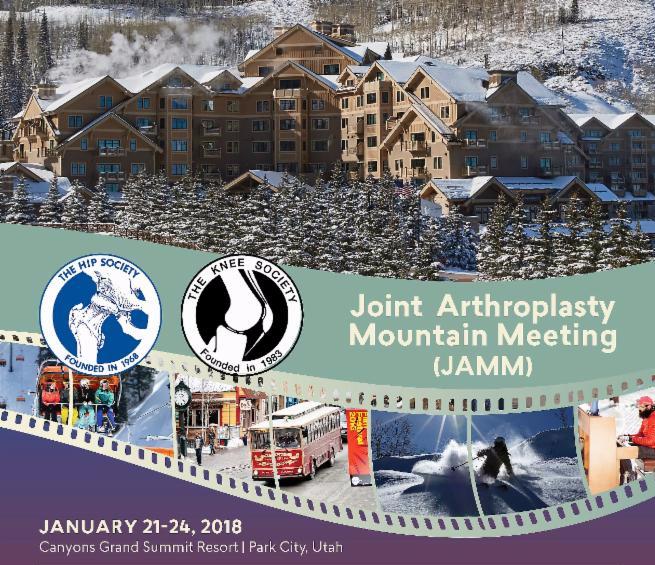 Apply for the John N. Insall Traveling Fellowship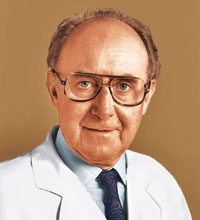 John N. Insall's legendary contributions to knee surgery were based on an academic pursuit of excellence in clinical research and patient care. His research endeavors encompassed biomechanics, surgical techniques and vigilant post-operative clinical follow-up. Inherent in his life's work was the importance of educating knee surgeons worldwide.
In recognition of his contributions and a desire to perpetuate his legacy, The Knee Society, with the support of the Insall Foundation, has endorsed the Insall Traveling Fellowship.
Since 2002, a group of four surgeons have traveled around North America for one month to various Knee Society member programs. This fellowship continues to foster education and research, with a sharing of ideas, techniques and camaraderie between the traveling fellows and The Knee Society members.
Applications for 2018 must be received by October 1, 2017. Download the application form HERE and follow instructions. Successful applicants must have completed either an Adult Reconstruction Knee Fellowship or Sports Medicine Fellowship prior to applying.
With questions or to receive additional information, please contact:

Kathleen E. Lenhardt
Phone: (646) 293-7520
Email: klenhardt@iskinstitute.com
If you choose to unsubscribe, we will be sad to see you go :( Remember that once you do, we won't be able to add you back, and you might be missing important future announcements and opportunities.
| | | |
| --- | --- | --- |
| | The Knee Society, 9400 West Higgins Road, Suite 500, Rosemont, IL 60018-4976 | |